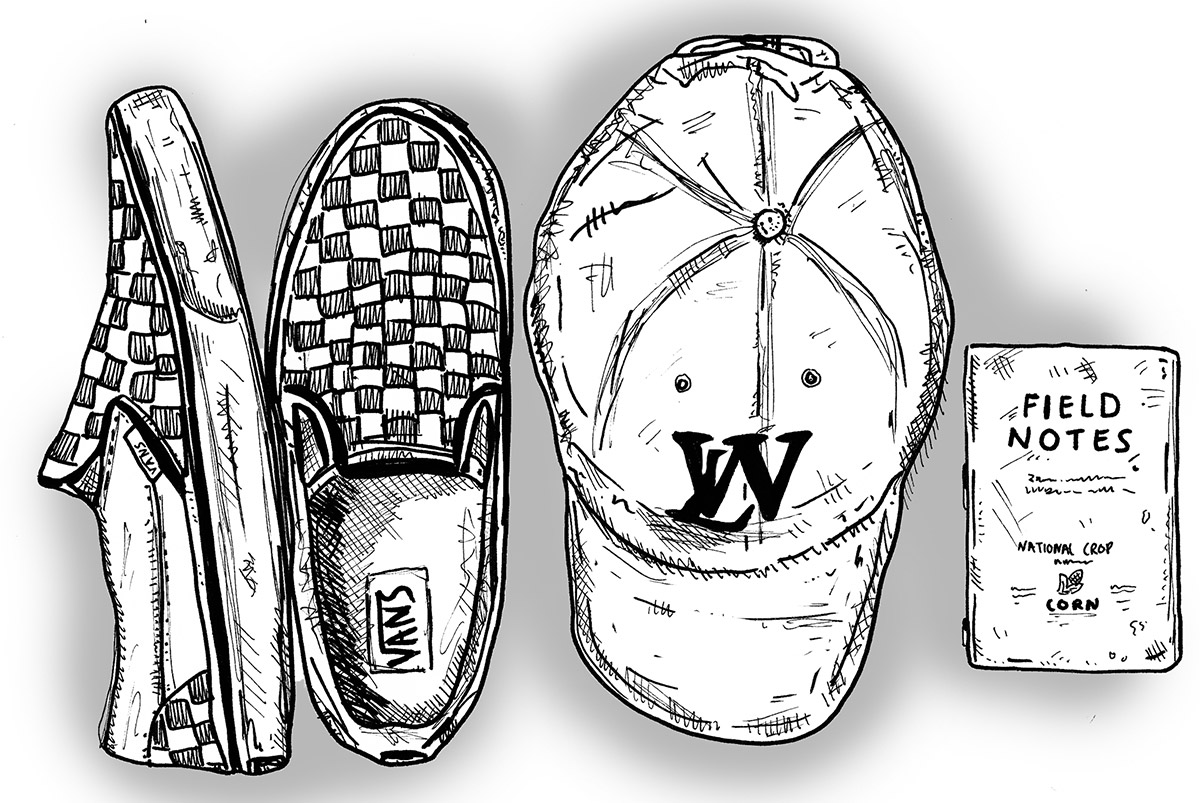 Vans CLASSIC SLIP-ON – Slip-ons – black/pewter checkerboard
Lightwork LW cap
Field notes Corn Notepad
 
Vans:
 
I wear these daily, they are already pretty battered but Vans seem to be indestructible when it comes to that big gum sole,
I have about 5 pairs of Vans slip on, they are my go-to shoe. My favourite ones though are these check board print ones, they have that wonderful 70s California charm to them. I always enjoy a nod to nostalgic times.
 
LW cap:
 
I love working with brands big and small, but there is something nice to do graphics and branding for brands just starting up. Lightwork gave me a few tees I drew and a couple of standard caps, there is something so iconic about a simple white hat with black heavy branding, this Louis flip is no exception. I wear it daily and I imagine when I am 50 it will still be in my shed ready to wear all grubby and worn in.  LightWork have a great lifestyle youth feel to them and seem interested in creating cool shit for like minded people. They are pretty young and already have an eye for other up and coming artists and the message they want to convey without chasing 'what's cool.'
I have no doubt they will get a lot of attention 2015 and they have a new collection I part designed up now!
 Light Work Clothing
 
Field Notes notepad:
 
I carry this field notepad round everywhere, whenever I am travelling around, I usually see something that sparks my attention and gives me inspiration for the next illustration or an idea comes to my mind early in the morning and I write all of them down. So I make sure I have this field notes with me at all time. Field notes are also a brand I really love, Aaron Draplin's attention to detail is second to none and when it comes to designing graphics and spotting something and using it for inspiration, he is a genius. He is also an inspiration to me and that's probably why my room already has four of these battered and full with notes and sketches on my side.
Rebel-Yüth