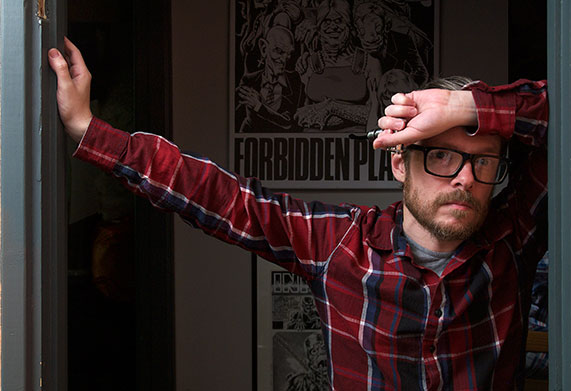 If you've found us then it's highly likely that you've an irregular thing for trainers, sneakers, crepes, daps or whichever term you're down with. Just like many who have an appreciation for the footwear culture, music also plays a major part within your life. Whether it introduced you to the scene, influencing what you wear or the place you go. No other music genre has contributed to bring the culture to where it has as Hip-Hop. A large majority of us like trainers and Hip-Hop, but how many can say they DJ, Breakdance and Graffiti write? Ollie Teeba of the Herbaliser is one who proudly can. He was at the centre of the UK scene when Hip-Hop and the trainers we love today made their introduction. Working as a DJ & Producer he also has an impressive record collection; neither of which he's letting go of anytime soon. We recently got the chance to see how things have changed over time and which model he's still waiting to see a re-issue of.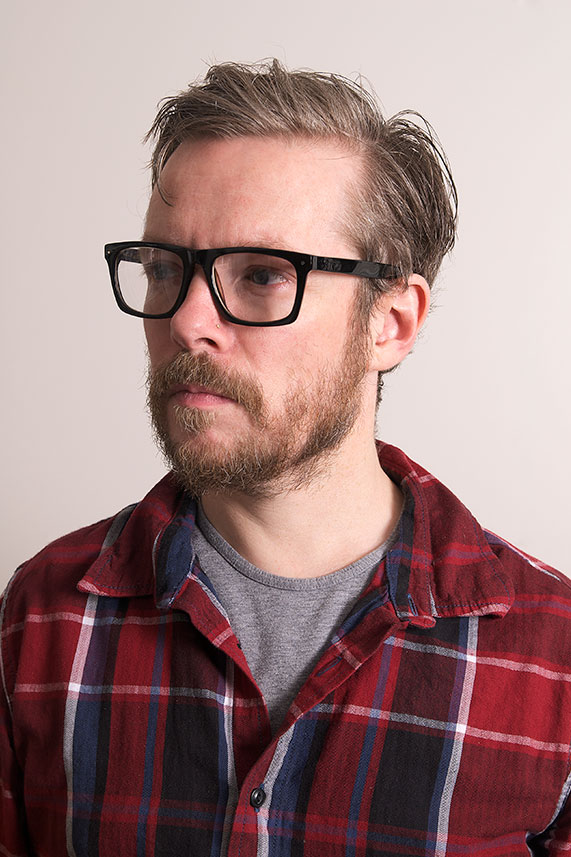 How do your love for shoes and your profession as a DJ & Producer go hand in hand?
They are both born out of my love of the Hip Hop culture. I'm lucky to have been of the that age when I got into Hip Hop during  the early 80's the clothing fashions were Supes, Pumas and Campus, Lee Jeans, Kangol hats, name-buckle belts and Kangols Cazals etc. My love of DJing comes directly from the old Bronx jams with Bambaataa, Grand Wizard Theodore and Grandmaster Flash cutting two copies of old breaks back to back. I just saw that and wanted to do it. It didn't have a whole lot to do with samplers back then. That was unaffordable technology in those days. The sampling is a natural progression from the cutting doubles DJ's, but it wasn't really until after the  Emu SP12 came out in 1987 that it became part of what we were hearing on Rap records.
Why do you think certain PUMA & Adidas models have such a major significance and cult following within Hip-Hop circles?
I guess we just make a visual association of these particular shoes with those formative years of Hip Hop culture. Before it became product. It was just a small set of people defining themselves outside of mainstream culture. Nowadays Hip Hop IS mainstream culture. It's not the same. While they were just the fashionable sneakers of the time, just the way Jordans etc are now, there was a simplicity and stylishness to what people were wearing back then.
For someone that's been a DJ, B Boy and Graffiti writer, have you even been tempted to complete the "Four Elements of Hip Hop" and get behind the microphone?
Only for shits & giggles… I could never take myself seriously as a rapper.
Performing around the world with The Herbaliser have you even come across secret stashes or picked up any surprise gems in unlikely places?
Not really… I've had some great record digging finds but sneaker digging finds not so much. That's mostly happened on the web.
What would give you more satisfaction; unearthing a rare and sought after record or vintage shoe you've always wanted?
That's a tricky one. I think the sense of satisfaction would be on an equal scale. Maybe the shoe, a little more, because you don't have to find a record in your size. That makes the whole thing a bit more challenging. However, I would probably get more use out of the record.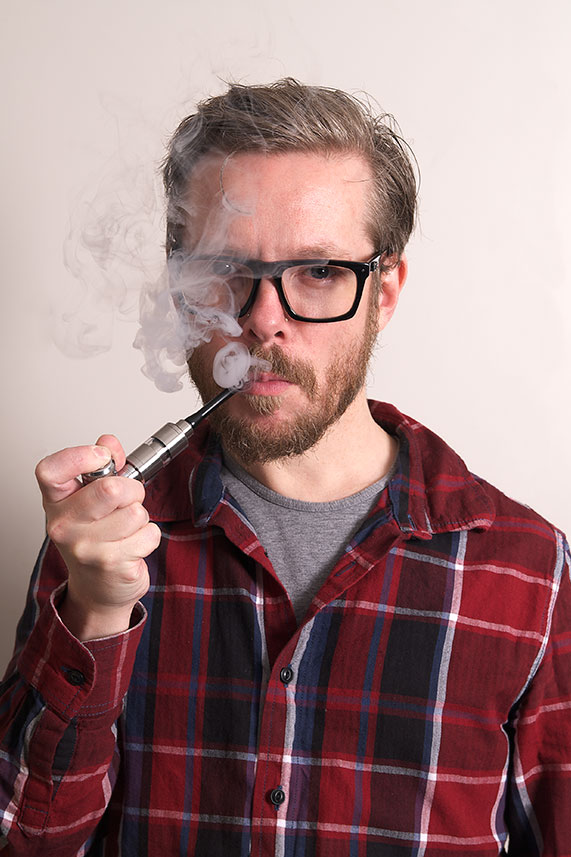 If you could choose; what's more precious to you, your music or shoe collection?
What are you some kind of sadist? Haha! Why don't you just say who is more precious to me? My wife or my children? Who shall I push of the cliff? (I can say this with no fear. I have neither).  Anyway that' a pretty impossible question to answer.
As Hip-Hop and shoes have evolved over the years, do you think they still share the same bond they had in the past?
Hard to say really. I think Hip Hop culture exploded and dispersed like radioactive particles and soaked into the fabric of everything around us. It's harder to put your finger on. When I was a teenager you would walk down the street and by the way a dude had his sneakers laced you knew who he was. You immediately knew that he was into this Hip Hop thing. He'd look at you and know the same. Nowadays it's pretty impossible to make that judgement. It's all just consumer product. Both the music and the clothing. That's why I still rock the old school sneakers; because it says something about who I am and the era that I came from.
With all the re-issues that shoes go through over the years is there a specific era of PUMA & Adidas you prefer?
While I'm not really a fan of tinkering with the designs, I feel that they hit mark perfectly with the  late 70's/80's versions of both the Superstar and the Suede/Clyde. The OG Superstar from 1970 is nice but the later version of the shoe is the chunkier B-Boy style that I fell in love with. After the 80's, the unnecessary modifications ruined the shoe, in my opinion. The Clyde lost its short toebox, wraparound foxing and chunky flat outsole. The Supes got a stupid looking criss-cross pattern on its rubber toe and both that model and the Campus lost their tapered outsole.  Bless them for re-issuing the 80's models.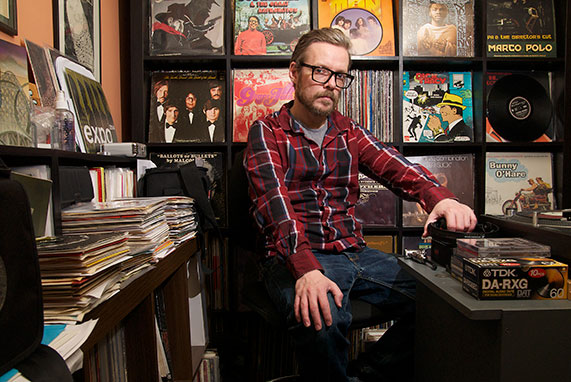 Your collection is heavily dominated by original & vintage articles. If brands could re-issue new releases to replicate those originals would it tempt you to buy them or is it more about hunting down those old pairs that you enjoy?
No… I love the re-issues, as long as the re-production is spot on. The Adidas 80's re-issues are perfect. Plus they're making some great colourways in more comfortable materials than the vintage joints. The Clydes are very good but I think Puma need to re-launch a model called 'Original Suede'. I think these must have been a US only mid to late 90's  issue. They are an absolutely perfect Yugo Suede replica. Before the Clyde re-issues came out in, what was it? 2004. There was loads of this shoe all over eBay. I stumbled across them while looking for Vintage Yugos. They were all cheap as chips. I snatched up a shedload of colourways.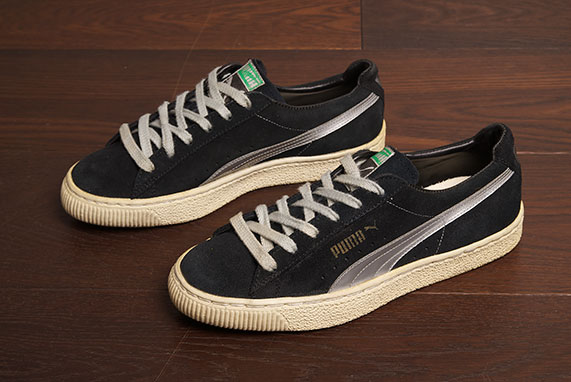 Is there a "Holy Grail" shoe or colourway that you're still searching for?
I am always on the lookout for original 'Made in Yugoslavia' Suedes/Clydes. Not an easy task these days. They rarely come up on eBay any more.  Certainly there are a couple of colourways that I would love to get my hands on. The legendary 'Rust on Tan' would probably be high up there. Also, 'Burgundy on Natural Grey'. I have heard Doze from Rocksteady mention a 'Forest green on Mint Green' although I have never seen them other than in graffiti form with in his character illustration on the Rocksteady Crew-Uprock sleeve artwork. I have a pair of mint condition 'Black on Gold' as seen on the 30 PUMA Shoes Poster and I won a pair of mint 'Gold on Black' from eBay a couple of years back but they got lost in the mail. I was gutted but at least the seller refunded the money.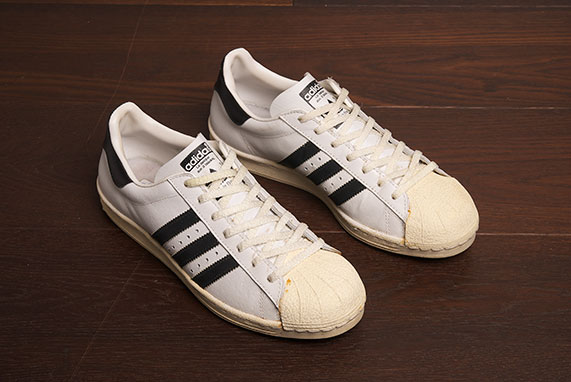 How would you compare buying shoes in the 1980's & 90's when you purchase them from stores relatively easy to now where the Internet gives you access to sellers worldwide, but with added competition?
Well… The thing about the 80's was that before the tie in with RUN DMC "My Adidas" in 1986 you couldn't get Supes in the UK. All you could get were Adidas Century. They were basically a plain white leather Campus. I remember some people scoring lines onto the toe so they looked like Superstars. You couldn't get Clydes either. When the 'States' came out at the end of 1985 they were nice but not quite the same. Before that people used to wear Puma Dallas because they were about the closest thing.   Those 80's Superstars and States only ran as models for a really short time. I remember travelling to the other side of London in 1988/89. There was a shop that still had some old Aqua States. You couldn't find them anymore. When the next versions came out in the early 90's they were different again. The Suede's were also quite nice but they had already wrecked the Superstar. So when eBay started up and I realised it was finally possible to find these elusive items – Pumas, Supes, Gooses etc.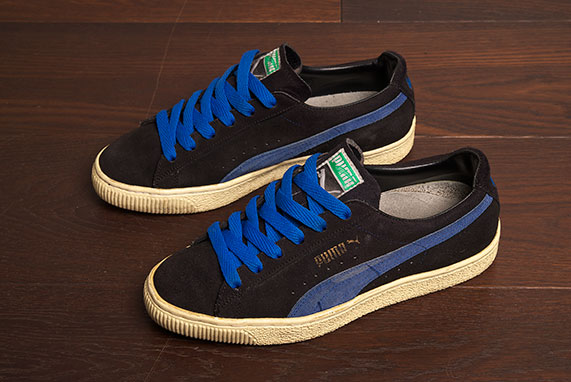 Do/have you worn all of your pairs or are their some too precious you want to keep looking fresh?
There are some that are only for photo shoots or stage wear. They have been worn but they've never hit a pavement nor run the risk of being stepped on by a beers soaked clubfoot.
For someone that owns both would you say there is a winner in terms of quality between Yugoslavian made PUMA's & French made adidas?
Nah… They're both stunning. Perfect design!!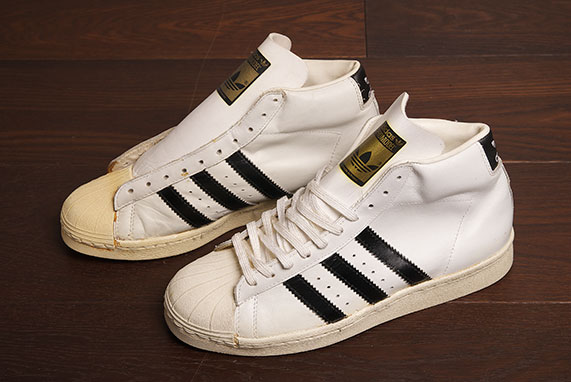 What's been the cheapest and most expensive pair you've purchased over the years?
I forget exact figures. I just remember 'expensive' and 'cheap'. My 'Black on Gold' cost me about $250, which isn't really all that expensive when you consider how much new sneakers retail at these days. My 'Blue on Black' cost me less than $50 with shipping. It's a lot like collecting records. It all evens out. For every expensive record you'll get a bunch of great cheap ones. I think I have definitely paid much more for vintage 'Made in France' Adidas Superstars and Campus. Especially since some of them were bought before the 80's re-issues were released when I think vintage Adidas pieces were probably at their peak.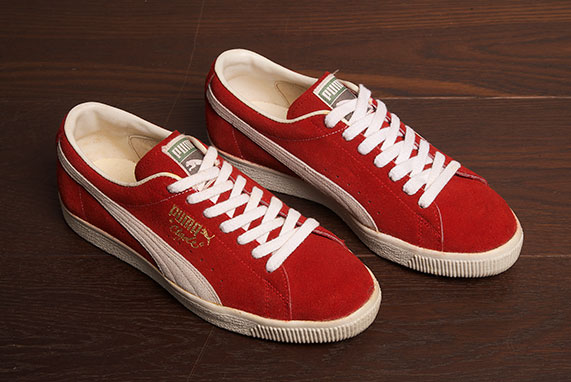 Is there a go-to shoe that you seem to always wear more than others?
I love suede sneakers more than anything. I seem to be very much going through an Adidas Campus 80's phase right now. My favourite shoe, of course is a Yugo Suede/Clyde but those shits are rare so I only rock them on special occasions. Plus the Campus 80's are very comfortable as well as looking super-fresh.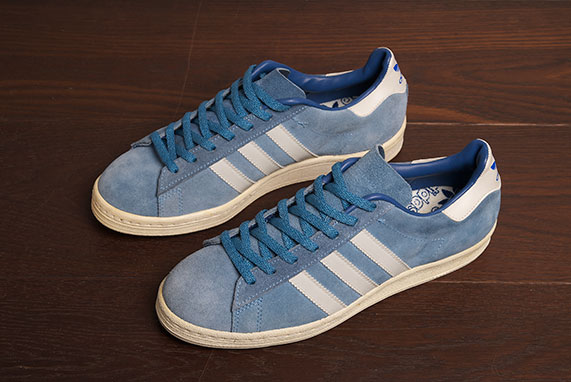 Is there a colourway of PUMA or adidas shoe that's a personal favourite? (Mine would have to be your Yellow/Black Yugo Clydes).
Those are my favourites. They are a really beautiful colourway and rare as hell. My favourite colourway ever is the 'rust on tan' which I have yet to acquire. When I was a kid I always wanted the 'Silver on Black' and the 'Black on Red', I now have both of those. I also have 'Silver on Charcoal' which I bought from Duffers of St George for £50 (a pretty price) in 1990. They were my first OG Yugos. I wore them a fair bit though, so the condition is not as good as later finds.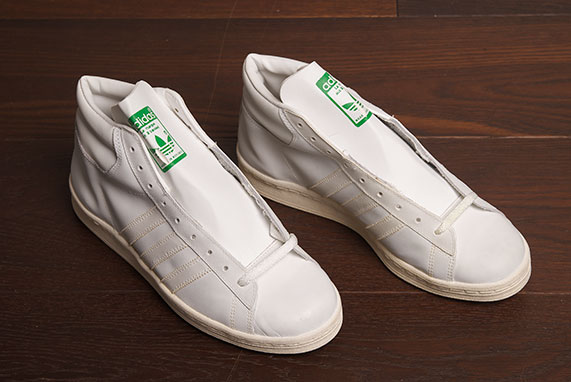 How much better is it for you to have the original boxes when getting vintage shoes?
Having the OG box is always a nice touch but it's not that vital to me. As long as they do have a box. I used to throw out the boxes when I was younger. I ended up with a mountain of sneakers spilling out of my wardrobe. The shape of the shoes gets all fucked up and I remember digging out my OG Jordan IV, my OG Air Max 1 and OG Adidas ZX8000 and they literally crumbled to dust in my hands.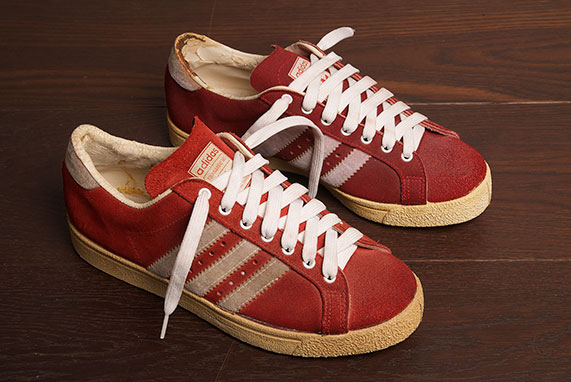 Are there any models you're still waiting for and wish were re-issued?
Puma Original Suede
You're a busy man to get hold of, so what are you working on at the moment and is there anything you'd like to plug?
Many things. Lots of stuff with Jonny Cuba, my Soundsci partner. I'm about to start working on some new Herbaliser stuff with Jake and shortly I will be releasing my Ollie Teeba LP with collaborations with several dope MC's.
Text: Professor B
Photography: Errol