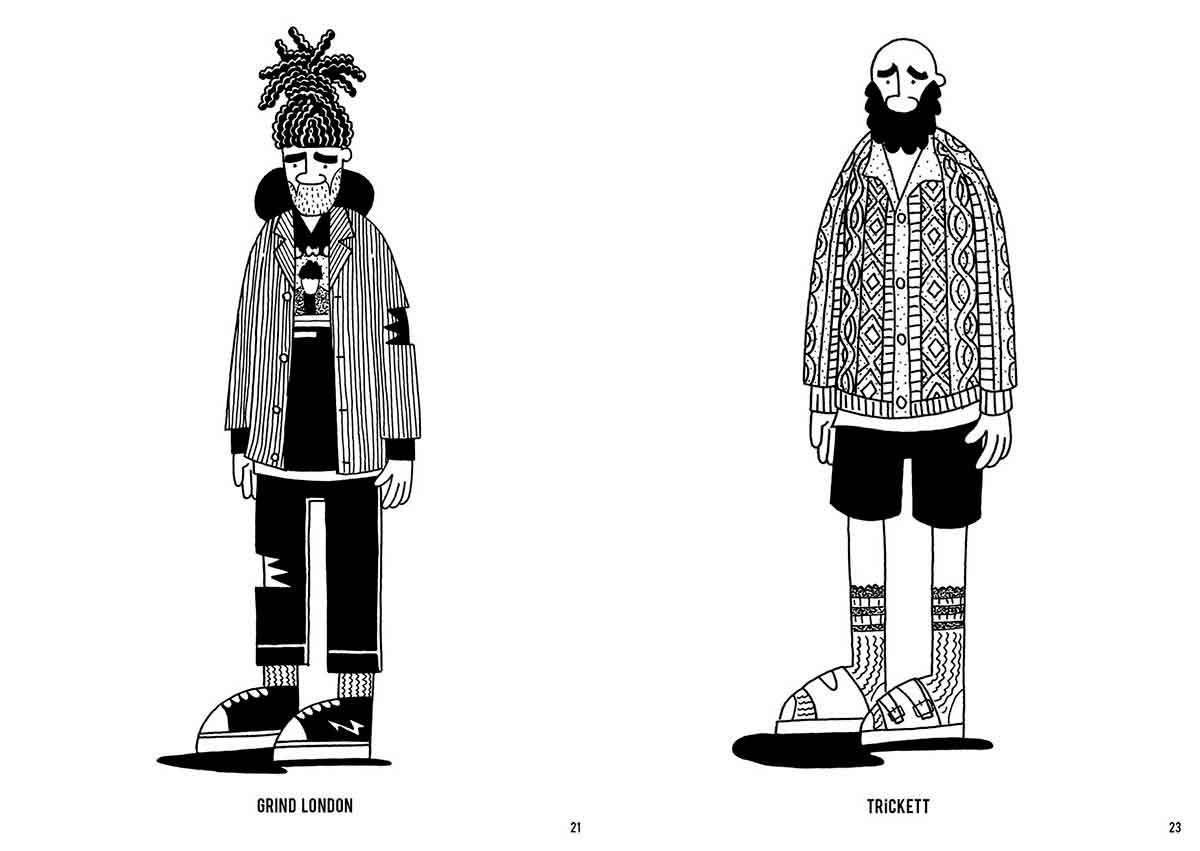 You may not recognise his name (where have you been?), then it's likely that you've seen his illustrations across Instagram or websites such as Hypebeast and Highsnobiety. He's even had his portrait illustrations recognised by Ronnie Fieg and Action Bronson. The name behind the pen is Josh Parkin and we caught up with him to get the low down on his big break, working with brands and how he starts each project.
You've got a very unique style, was this something you did consciously to make it easily recognisable against many other illustrations?
I just think that my style has been constantly developed, refined and reworked over the years. At university, I never really nailed down one particular style, so my body of work was completely different, depending on the project. Now, after a few years of working on a freelance basis, I've got to a point where people can see my work a mile off. Strong shapes, clean lines and bold areas of deep black ink are the things to look out for. On the other hand though, if a client wants colour added to the work, then that is fine. It's not something I'd shy away from. Sometimes I feel it's refreshing to see a limited and well thought out colour palette.
I'm not one of those who would be silly enough to limit myself to strictly working one way. The relationship between client and artist has to show compromise, and to be honest, that's one of the great parts of doing this as a job… Throwing ideas and thoughts back and forth with other creatives.
What was your background in to becoming an illustrator?
Basically, I've drawn since forever. Growing up I'd much rather spend an hour drawing than playing on a Play Station. Things that I always remember drawing were Football Boots. I used to say all the time that I wanted to design football boots when I was older, something that would appeal massively to me now. I remember folders of designs, for different brands and players that I'd done. As I moved through High School and onto Art College, my work was influenced by the music I listened to. Then later at University everything seemed to focus around clothing, trends and brands I was a fan of.
What's your preferred medium of choice of sketching?
Each project tends to start out with me, and about 50 sheets of tracing paper. I like to use books and magazines as much as possible. Another thing I find helpful is looking through old sketchbooks. I sketch out initial ideas in pencil onto tracing paper. As the ideas become more drawings rather than sketches, I'll start to be more careful and consider stuff like textures and how I can build up different layers of the drawing. Once I'm happy I'll trace onto paper, and use black ink to make the drawing. If it's a project that requires colour and digital development, I'll scan the drawing and work on it using Photoshop.
My commission pieces are bespoke illustrations, and I think that's part of the appeal. You're getting a one off illustration; nothing is edited or 'cleaned up' digitally. You're getting a personal response to the photographs you send me, pen on ink. Nothing more.
You've worked with several brands and companies, was there a project you feel put your name out there in a big way that attracted more? The Chimpstore Lookbook stands out, or was there an earlier one?
The project that really gave me a social presence to work off the back of, was the first thing I did with The Chimp Store. For that I owe a massive shout to Neil Bedford. The year after leaving University, I spent a lot of time drawing people I found to be 'influential' in the areas I wanted to be working in, and either sending them the drawings or sending past Uni projects that I'd printed in my bedroom. I sent Neil some trainer drawings I'd done and from that we began emailing. We talked about the possibility of doing a Chimp Store Lookbook that would be full of illustrated product, rather than stock photos. The reception form that was crazy, it made all the major street wear and culture blogs that I'd spent years reading. So yeah, thanks Neil.
My work has changed dramatically since then, so it'd be really interesting to see how I'd respond to the brief if it was set again. Like I say, before that my time was spent sending out drawings, past projects and promo stuff I was making. I'd using my wage form places like Debenhams and Poundworld to pay for ink and postage and stuff… a risk that seems to have paid off so far.
Do companies give you full freedom to put your spin on a piece when commissioning you for a pro project?
Yeah, obviously if they hire me then it's because they want my take, my response to the subject or theme they set. Some brands will give more freedom than others, depending on the size of the brand, or even the size of the campaign it's going to be used for. That's the beauty of working with different types of companies. Some will be like, 'Yeah, we want a Josh Parkin piece for …' and others will be like 'We think your style of work would compliment how we plan to launch…'
How do you go about choosing the subject matters for your personal work?
Personal work for me is just anything that I find interesting at the time. Anything trending or in the news that I think I can create an interesting response to. If I have a day where I'm free, and Action Bronson has just released a new track, I'm gonna draw that guy and tweet him it. If I come across a website or book that has material I find appealing, I'll come back to it when I have a free day, and try creating a response. Other times, I'll pick a brand that I like and just start doodling. That's what happened with the recent Converse piece I made. People at the offices saw it online, and from there we ended up emailing and I sent a few prints down to them.
Is it important to have a creative sense of humour to be a good illustrator?
I just think it depends what kind of illustrator you want to be. For me, humour is an important part. It'd be nice to think that people found my work funny. Not everyone has to be like that though, there are some amazing illustrators out there that have earned a great rep creating visual responses in a more observational way.
Is there friendly banter amongst other illustrators or do you see them as competition for possible jobs?
It's weird. When I see brands and stores working with artists I think, 'Ahh nice one' then my thought the second after that is, 'why didn't they ask me to do that' and I'll go through imagining how id do it and what it'd look like. It's not that I'm bitter or anything, it's just that I'm mad passionate about my work. I've got loads of friends that are in the same position, illustrators, designers and other creative fields, so if I see them doing well I'm obviously going to be made up and support them.
Are there any interesting future projects you're working on you can tell us about?
There's a few potential jobs that, if they come off will be great. Some brands that I'm really passionate about. So you may see them crop up over the next few months. One of my most recent jobs was the collaboration with Gloverall. That was launched last month at the major trade shows. That for me was such a good project. I got to work with a really cool guy, Mark Van Beek. He was just as passionate as me for creating something that would really take Gloverall out of its comfort zone and make it appeal to a new type of customer, as well as staying loyal to the traditions it's built on. The badges and patches we created were all inspired by a vintage coach jacket Mark had found in Shoreditch.