An interview with Helmut Fischer aka "Mr PUMA"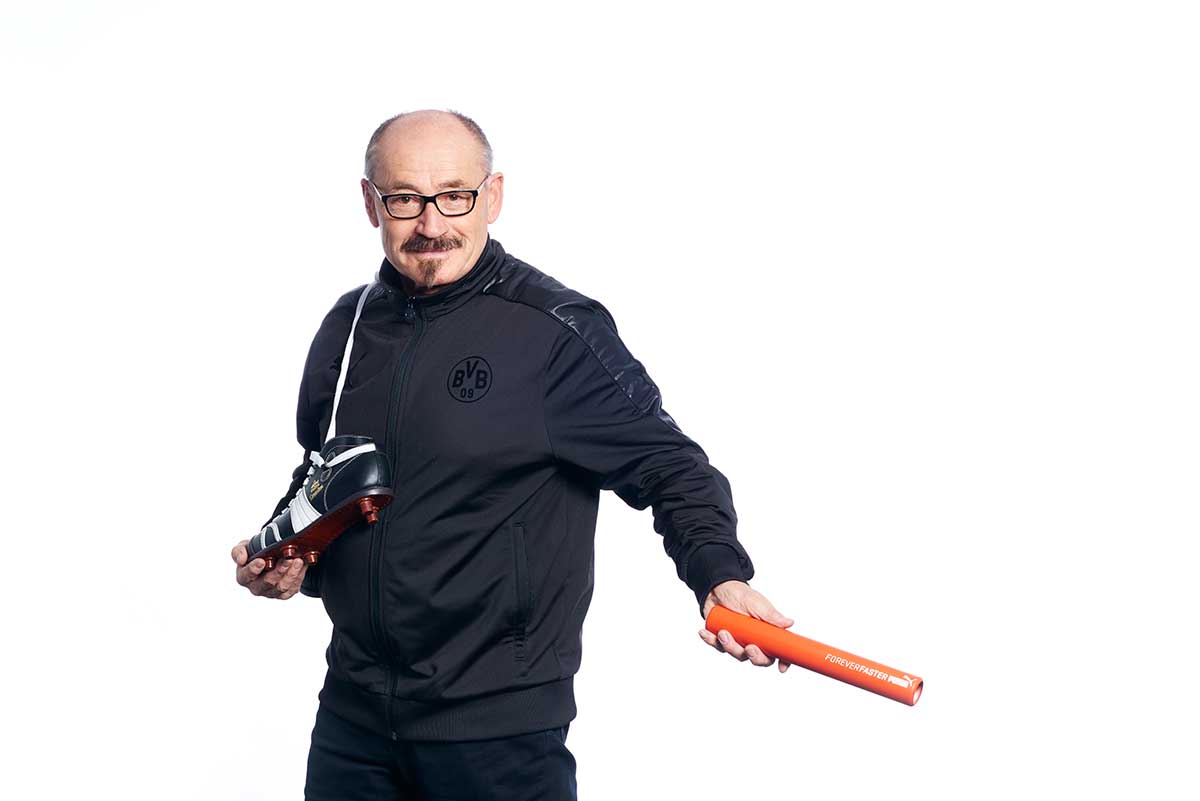 Not many people stay employed with one company ten years plus. This is even more prevalent within the Sporting and Footwear industry. Well, that doesn't apply to Helmut Fischer aka "Mr. PUMA" who's been with the German Company for almost 40 years.
From the early days of being approached by Amin Dassler (son of founder Rudolf

), to working with athletes including Maradona, Boris Becker, Guillermo Vilas and Pele; he's seen it all. Using his personal collection of PUMA shoes, apparel and products he created the archive, which he's working on increasing. He's witnessed the transition from focusing on Sports and Performance, to Lifestyle and now back again as PUMA aim to become the fastest Sports brand in the world.
We got the opportunity for a one-to-one with Mr. PUMA to see how he got started, what kept him from moving elsewhere and what we can look forward to for the future.
Before you officially joined PUMA was your foot already firmly placed in the PUMA side of Herzogenaurach?
Yes, thanks to my Football Club FCH (FC Herzogenaurach) I became a PUMA fan in the 1960's. I started playing for the Club in 1959. My father wasn't too happy about that, as he worked at adidas for many years.
What's your current position and how has your day-to-day role changed over the years?
Since 2012, I've been working as Senior Adviser to the General Management of PUMA DACH (Germany, Austria & Switzerland). When I started in 1978 after finishing my studies at the Marketing School in nearby Nuremberg, I founded the PUMA Advertising Department as the first Marketing Manager at the company.
Besides catalogues, etc., I was responsible for all of PUMA's marketing activities including media and trade shows. During the years between 1980 and 1990, I also helped to look after our athletes, for example Pele, Maradona, Becker, Navratilova, Vilas, Matthäus and numerous Football, Handball and Hockey clubs.
From 1990, my tasks became more focused on the German market. Next to advertising, trade shows, sports promotion and marketing services were my most important areas of responsibility.
You've gained the nickname "Mister PUMA", but how did you originally join the company and did you ever think that almost 40 years later you would still remain employed with them?
True, I've been with PUMA for almost 38 years. I've always been fascinated by sports and the whole sports environment. Then in 1978, the son of our company's founder Rudolf Dassler gave me the opportunity to build up PUMA's marketing from scratch! Of course I didn't think that I would have the privilege to work for PUMA for such a long time. But I was born here in Herzogenaurach and happy that I am still living in "Herzo" and can continue working here.
It's not common for someone to stay employed with one company for so many years, what was it that kept you at PUMA and stopped you from venturing elsewhere?
Yes, it's not common to be with a company for so many years, including PUMA, especially during the time from 1988- 1991, when things didn't go so well for the company. I got some good offers to change jobs within the sporting goods industry. However, I never doubted the strength of PUMA, and so I stuck with our brand. Still today as almost 40 years ago – and with all my heart.
PUMA has a cult following with collectors across West & Eastern Europe, North & South America, as well as across Asia; does it ever surprise you how long and far the PUMA brand has been adorned?
I think PUMA has a big following across the world, and PUMA fans will be loyal to the brand forever!
How has PUMA changed as they transformed from producing performance footwear to lifestyle, street and fashion wear?
During the 90's, PUMA distanced itself more and more from its roots (Sports) and didn't renew a lot of individual and team contracts in football, handball, track & field, and a lot of energy was redirected into the new Lifestyle business. When we realised that this step away from Sports was dangerous for PUMA's future, it was already too late.
Now we are refocusing on Sports to regain credibility on the performance side, including in Football and Running. This is a strong brand and we'll be back! I'm convinced of this, especially since our CEO Bjørn Gulden has been on board introducing our new mission statement of becoming the fastest sports brand in the world.
You're also responsible for curating the PUMA archive in Germany. When did you begin curating it and what was the initial plan for it?
I've always been a passionate collector, for example of shoes and books. Since 1978 I have collected a lot of the things that PUMA brought to the market. Unfortunately I'm the only collector at the company's headquarters – so my collection is not quite as complete as I'd like it to be! It's crazy to think that a lot of things associated with the Dassler family was thrown away at one point. But I managed to take a lot of stuff home to store in my garage.
It wasn't until 2000 that I started to bring these things back to PUMA. We don't have a company archive yet – but I'm working on it.
Through our site we're providing an online archive and resource for rare and vintage PUMA shoes many may not be familiar with. Would there be any future plans to produce an official PUMA archive that could viewable online? If not, how would a few passionate individuals go about getting an invite to view it in person?
As I mentioned earlier, I am working on establishing an archive for our collection so it can be shown to PUMA fans both physically and online. Unfortunately, that will still take a while.
Your favorite model is the Pelé Brasil, what is it about that model that stands out over the many others?
Yes, the Pelé Brasil remains my favourite model (although sadly my original model was stolen during an exhibition). Besides that, I love my Clyde's and the Suede, but also the Basket series.
In Running, I really like the great TRINOMIC sneakers and especially the PUMA DISC.
In football, my favourites are my originals from 1954, 1958 of the PUMA Pelé King from 1970.
In Track & Field, the shoes from the Jesse Owens series from 1936, Armin Hary 1960 and my originals from Usain Bolt.
In Basketball, I love the original baskets from Clyde Frazier or Ralph Samson and from Tennis, the shoes and rackets from Boris Becker, Navratilovo, amongst others.
And many more…
Are there any models or styles that you personally or PUMA as a company are searching for?
Yes. I am always looking for and occasionally buying original models from the 50s, 60s, 70s and 80s for our archive.
Thanks for taking the time to speak with us. What does the future hold for yourself, PUMA and are there any future projects you could tell us that people can look forward to?
There will a whole number of great shoes coming to the market in future! PUMA fans really have something to look forward to!
Text: Professor B
Helmut Fischer Portraits: Christoph Maderer for PUMA